Despite being close to the city center, which is about 20 minutes by train to Shinjuku, urban agriculture is thriving.In the city, many farmers strive every day to provide fresh, safe and safe vegetables.
For this reason, vegetables are used every day at nursery schools, elementary and junior high schools in the city, and are available to many people, including citizens.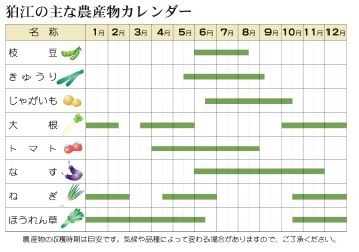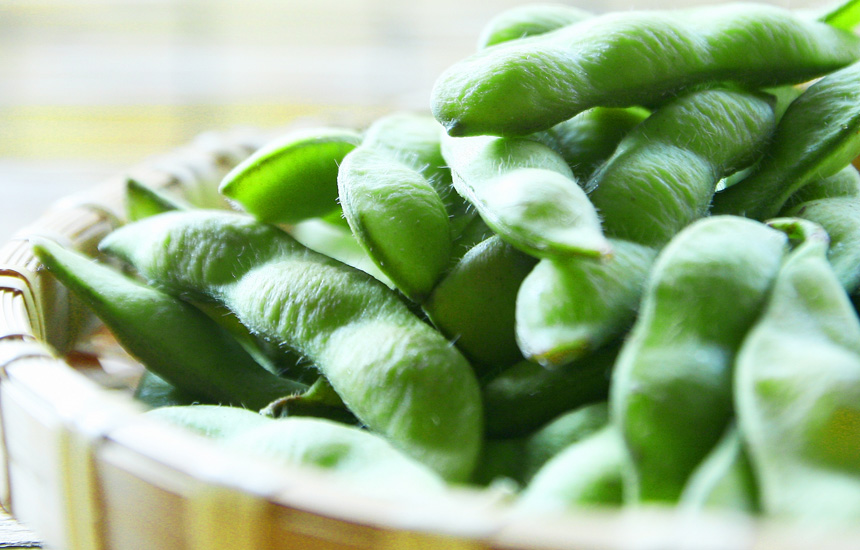 Edamame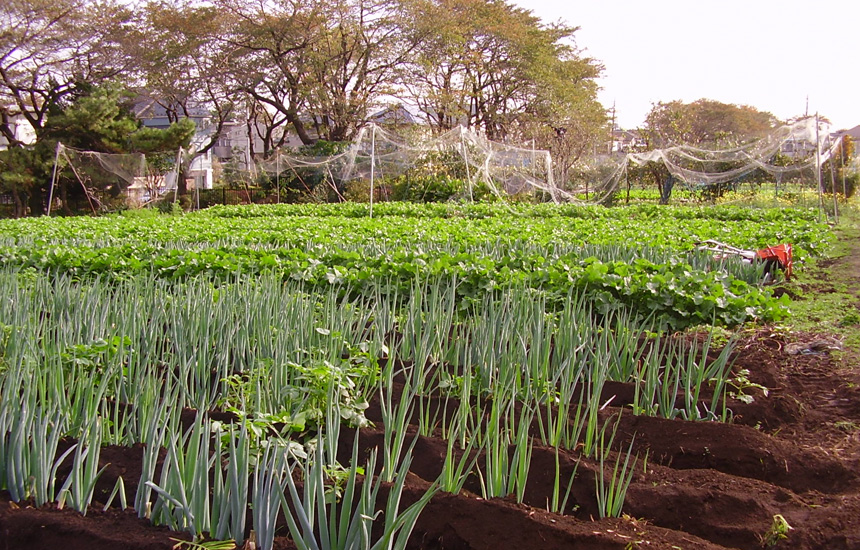 Farmland
Komae Edition GAP (Komae Brand Vegetables)
1. What led to the introduction?
In response to the growing awareness of food safety among consumers, volunteer vegetable producers in the city organized the Komoae GAP Study Group and started GAP initiatives in order to disseminate "how to ensure food safety."
2. Features
With the introduction of the Komae GAP (Agricultural Production Process Management) method, we use a unified checklist to thoroughly confirm and manage each item in each production process, so it is safe, secure, and delicious.
 Komae Brand Vegetables won the Food Action Nippon Award 2015 Food Culture and Awareness Category for "Komae Brand Vegetables", an initiative for the Komae version of THE AGI From Tokyo.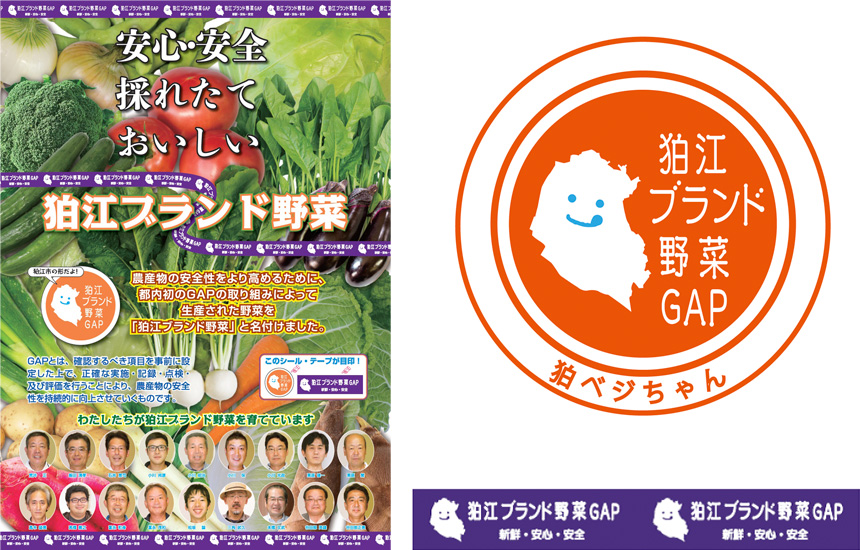 List of vegetable direct sales offices in Komae
1. Direct sales office map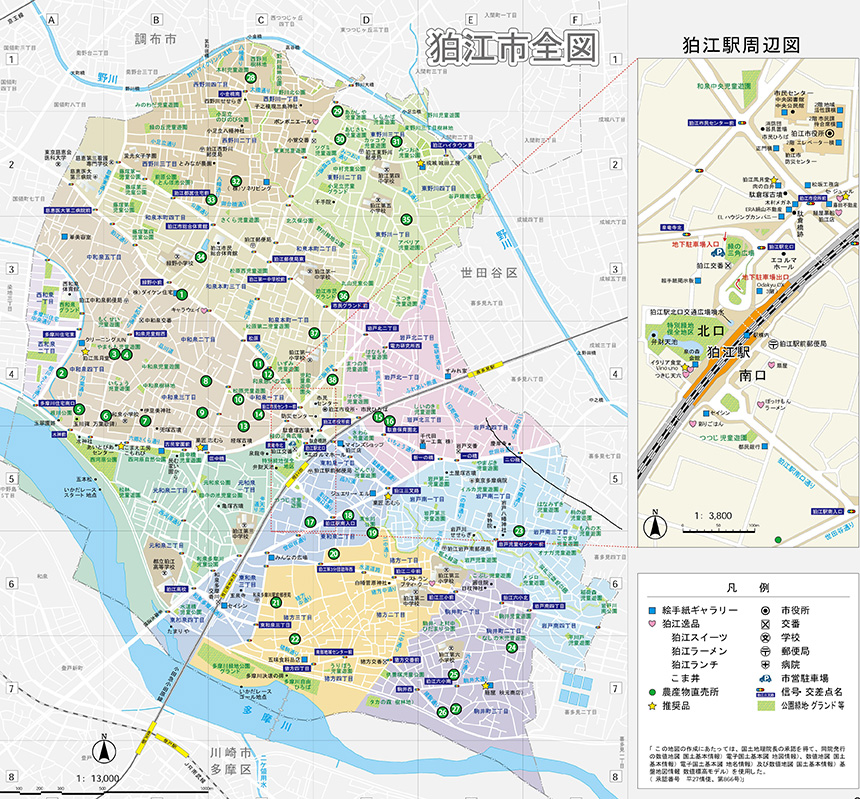 2. List of direct sales offices
Mines Shop Komae 1-2-19 03-3488-3435
Nakaizumi District
Number
Item
Full name
Address
Telephone number
Business Hours
Period
Off
1
Vegetables
Tetsuo Okubo
Nakaizumi 2-16-2
03-3489-1416
9:30-12:00
Year-round

Irregular holidays (mainly Monday, Wednesday, Friday)

2
Komae Brand Vegetables
Tadashi Arai (Arai Farm)
Nakaizumi 4-22-17
03-3480-2029
From 6:00 in the summer to sold out from 6:30 a.m. to sold out from 6:30 a.m. to sold out
Year-round
Every Thursday
3
KomaeBrand Vegetables
Fumitake Motohashi
Nakaizumi 4-3-11
03-3489-8002
12:00-18:00
Year-round
Irregularly
4
Vegetables
Shigeru Arai and Mr. Nokuo Haruna
Nakaizumi 3-15-18
03-3480-2851
10:00-18:00
Year-round
Irregularly
5
Vegetable fr
uits and veg
etables
Shinichi Komachi and Yuichi Komachi (Komachi Horticulture)
Nakaizumi 4-14
03-3489-1478
9:00 a.m. – 4:00 p.m.
We do not sell in February and August.
Irregularly
6
Vegetables
Kimiko Komachi and Yoshiyoshi Komachi
Nakaizumi 3-35-7
―
9:00-13:00
Monday, Wednesday and Friday
Tuesday, Thursday, Saturday and Sunday (Irregular holiday)
7
Vegetables
Hiroyuki Komachi and Kiyo (Farm Komachi)
Nakaizumi 3-22
03-3489-4689
15:00-17:00
June to August, October to December
Tuesday, Thursday, Saturday, Sunday, national holiday
8
Vegetables
Tadao Iida, Kiichi, Monko
Nakaizumi 3-2-24
03-3489-2543
13:00-20:00
Year-round
Irregularly
9
Vegetables
Takashi Iida
Nakaizumi 3-3-22
080-1347-7922
8:00-12:00
Year-round
Irregularly
10
Komae Brand Vegetables
Kiyotaka Iida
Nakaizumi 1-18-15
03-3489-2621
8:30 a.m. – Sold out
Year-round
Irregularly
11
Vegetables
Shinichi Kinuyama, Naomi, Kiyoko
Nakaizumi 1-14-15
03-3489-8695
From 10:00 to sold out
Year-round
Irregularly
12
Vegetable fruit
s and vegetables
Tomio Kinuyama and Kyoko (Kinuyama Farm)
Nakaizumi 1-8-3
090-8490-5016
9:30-12:00
All year on Tuesdays and Fridays
Irregularly
13
Vegetables
Joichi Inoue and Masayoshi Inoue 
Nakaizumi 1-24-5
03-3489-7249
15:00 – Sold out
Year-round
Irregularly
14
Vegetable fr
uits and veg
etables
Joichi Iida and Masahiro (Iida Farm)
Nakaizumi 1-20-24
03-3480-0268
8:00 a.m. – 7:00 p.m.
Year-round
Year-end and New Year holidays (irregular holidays)
Iwato Kita, Higashiizumi, Iwato Minami, Tokata, Komaicho District
Number
Item
Full name
Address
Telephone number
Business Hours
Period
Off
15
Vegetable fruit
s and vegetables
Masahiro Triangle
Iwato Kita 3-1-20
03-3489-6588
10:00 ~ 17:00
Year-round
Irregularly
16
Komae Brand Vegetable
Fruits
Takehisa Triangular
Iwato Kita 3-3-2
080-5378-3698
9:00 ~ 12:00
Year-round
Irregularly
17
Vegetables
Yoshimitsu Yoshioka, Tatsu, Kunitaka (Yoshioka Farm)
Higashi-Izumi 1-33-9
03-3489-7245
10:30-12:3014:00-1
7:00 (until 16:30
from November to February)
Year-round
Year-end and New Year holidays (irregular holidays)
18
Komae Brand Vegetables
Hideo Tanitabe, Ms. Yumiko
Higashi-Izumi 2-9-4
03-3480-0805
8:00 a.m. – Sold out
May 25 – December 20
Irregularly
19
Vegetable f
lowers
Kenichi Ogawa and Masashi
Higashi-Izumi 2-10
03-3489-0875
10:00-12:00
June to December
Irregular holidays (Tuesday, Thursday, Saturday, Sunday)
20
Komae Brand Vegetables
Yasushi Ogawa
Tsujikata 1-1-9
03-3489-0876
10:00 ~ 17:00
December 27-29 only
All except December 27-29
21.
Komae Brand Vegetables
Yoshifumi Ogawa
Tsujikata 3-3-5
03-3489-1317
8:00-13:00
Year-round
Irregular holidays (year-end and New Year holidays)
22
Vegetables
Kazuo Shimizu
Tsujikata 3-26-3
03-3489-4490
From 10:00 to sold out
Year-round
Irregularly
23
Vegetables
Junko Ishikura and Masahiro Ishikura
Iwato Minami 2-8-25
―
From 10:00 to sold out
Year-round
Irregularly
24
Vegetables
Ryosuke Takahashi and Kazuma
Komai 2-17-1
03-3489-7375
8:00 a.m. – Sold out
Year-round
Irregular holidays (year-end and New Year holidays)
25
Komae Brand Vegetables
Atsushi Takahashi, Yuyu, and Yoshiyuki Takahashi
Komai 1-41-18
03-3480-8326
9:00 ~ 17:00
Year-round
Irregular holidays (year-end and New Year holidays)
26
Vegetables
Kiyoyuki Matsuzaka
Komai 3-15-1
03-3480-8027
Undecided
Year-round
Irregularly
27
Vegetables
Atsushi Iba
Komai 3-16-1
03-3480-8935
9:00 ~ 17:00
Year-round
Irregular holidays all year round
Nishino River, HigashinoRiver, Izumi honcho district
Number
Item
Full name
Address
Telephone number
Business Hours
Period
Off
28
Komae Brand Vegetable Flo
wers
Kazumi Tsujinaga and Kazuto (Komae Horticulture)
Nishinogawa 2-34-11
090-2208-1288
8:00 a.m. to 5:00 p.m.
Year-round
No
29
Vegetables
Hiroaki Kuriyama
Higashinogawa 3-4-10
03-3489-4160
9:00 a.m. – sold out
Year-round
Irregularly
30
Vegetable Flowers
Yoshikazu Kuriyama
Higashinogawa 3-2-4
03-3489-3385
From 10:00 to sold out
Year-round
Irregularly
31
Vegetables
Shuichi Kuriyama and Sachiko
Higashinogawa 3-13
03-3489-1074
9:30 a.m. – sold out
Year-round
Irregularly
32
Komae Brand Vegetables
Shigekazu Tsujinaga (Nanaya)
Nishinogawa 2-25-1
090-3084-6864
9:00 ~ 17:00
Year-round
Irregularly
33
Vegetables
Bori Tsujinaga, Katsuko, Akio
Nishinogawa 3-1-23
03-3489-5970
9:00 a.m. – sold out
Year-round
Irregularly
34
Vegetable fr
uits and veg
etables
Riko Matsumoto, Yoko
Izumimoto 3-24-14
03-3489-7920
9:00 ~ 12:00
Year-round
Irregularly
35
Komae Brand Vegetables
Fruits
Morimi Takagi
Higashinogawa 1-33-15
090-1453-7709
16:00-18:00
All year round (Friday, Saturday)
Irregular holidays (Monday to Thursday, Sunday)
36
Vegetable fruit
s and vegetables
Toshihiro Ishii, Tomoko, Shigeko, Keiko Kurihara
Izumimoto 2-4-1
03-3480-6161
10:00-14:00
Year-round
Irregular holidays (Saturdays, Sundays, national holidays)
37
Vegetable fruit
s and vegetables
Michiro Iida
Izumimoto 1-15
03-3489-8205
8:00-12:00
Fire, Wood, Soil
Sun, Monday, Wednesday, Friday
38
Vegetables
Mr. Joji Iida and Kiyo
Izumimoto 1-7
03-3489-7907
9:00 a.m. – sold out
All year round (Tuesday, Thursday, Saturday)
Irregular holidays (Sunday, Monday, Wednesday, Friday)