The magazine "Setagaya Life" which was featured in Komae City will be released!
January 29, 2016
Setagaya Life, a magazine with a lot of information about Komae City, will be released on Tuesday, January 26!Please refer to it by all means when you go out!
Fuji TV "Three Beautiful Lies" used the Nogawa Regional Center
The drama "Women's Writer Mystery Series: Three Beautiful Lies" which was filmed by renting a conference room and a parking lot of the Nogawa Regional Center in Komae City was broadcasted.I decorated the conference room quite a bit.
A video shot on the riverbed of the ground and riverbed of Komae City has been released!
December 9, 2015
"Chugai Pharmaceutical Primary Movie 3 Bone Joint Disease" filmed on the riverbed at the ground and riverbed in Komae City has been released.The movie is a short movie with the theme of "The precious time of grandma and grandchild".
December 4, 2015
Today, there was a movie shoot from the road to the riverbed!
About 150 people!There were a lot of extras.It was a large number of pe
ople, but with the cooperation of the people who passed by and the people in the neighborhood, we were able to take a picture safely.Thank you very much!
The weather was very good!However, the wind was very strong, and it was very cold.Everyone was trembling.Winter shooting is a battle against the cold from now on!..
. We will report the name of the project when it becomes public.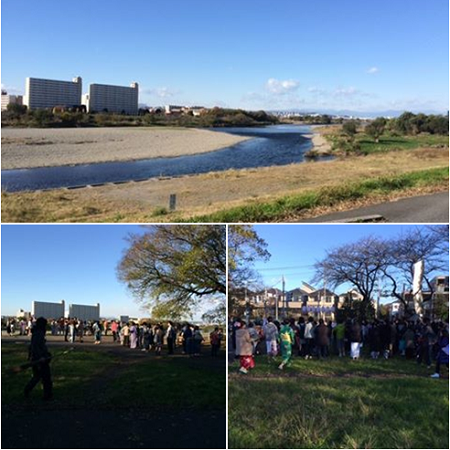 The 7th episode of the drama "Heritage Stral" reflected Komae City Hall!
December 4, 2015
The regional activity section of Komae City Hall was reflected a little in the drama "Heritage Contest Tribe" which was broadcasted yesterday.